A new, free database update for Martin's Index is available now and should download automatically the next time you run the app! (You can also force it by choosing Check for update in the settings panel).
This is not a small update. In addition to some important fixes, the collection has leapt to 951 recipes! I've added a heap of recipes from Harry McElhone's watershed Harry's ABC of Mixing Cocktails (1922). I've also pulled in the recipes he added in Harry's Barflies and Cocktails (1927), which was an updated and illustrated version of Harry's ABC. Finally, this update also presents a sizable chunk of Judge Jr.'s first Here's How volume (1927). You'll find these new recipes tidily corralled in the Provenance list: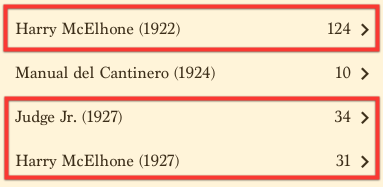 With McElhone's recipes, we see the European scene taking up the mantle of cocktail culture in the wake of American Prohibition. Naturally, the geographic change introduces important new ingredients, such as:
Campari
gentian liqueurs (e.g., Salers, Avèze, Suze, etc.)
groseille syrup
Rose's Lime Juice
sirop de citron
Johnnie Walker Black (back then just called Walker's)
Meanwhile, Judge Jr.'s recipes show how smart, cocktail-loving Americans tried to keep their own tradition alive despite… the difficulties. Of course, those difficulties were in turn inspiring interest in new directions as well:
moonshine
pulque
tequila
sake
Speaking of Barflies and Cocktails, a delightful reprint is available from Cocktail Kingdom. This book, which Harry sold out of Harry's New York Bar (Paris), is one of the more visually-interesting cocktail manuals, and it contains nearly everything from Harry's ABC while adding many other interesting formulations. David Wondrich wrote a new intro for the reprint. Highly recommended.
Next up for Martin's Index: more from Judge Jr. and more from Cuba as we inch our way up to the landmark Savoy Cocktail Book!